What:
Dress- H&M
Sweater- Winners
Belt- Ardenes
Leggings- Sirens
Boots- Aldo
Brody thought it would be a good idea if I laid in the snow bank for my pictures....for some strange reason I went along with the idea.
Brrr...not the brightest idea around...but it was worth a few laughs.
I have 2 new badges for my sidebar! Copy the code to put one on yours too!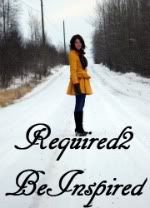 Lisa
was so kind to help me out with this! She even posted some
instructions
so you can make your own!
I'm slowly changing things around on my blog because it was feeling too cluttered, so now instead of my blogroll on the sidebar I'm going to put blog badges...if you have one let me know! I'm hoping to find a new place for my blogroll in the future, so don't be offended that I removed it!