Megan writes the very new style blog
Vogue Made Me Do It
, about the many things she finds sartorially inspiring, be it a person's personal style to films, TV shows, books, and music. This post is a taste of what you can find there.
So, I watch a lot of TV and movies. A LOT. So naturally I am really inspired by the costumes and personal style of many fictional characters. Here is a smattering of a few of my favourite TV shows and movies, some you may have heard of, some you may not, and the style I find inspirational in each. I limited it to 4 here, but I could literally go on for days.
China in the swingin' '60s? YES. I love watching films like this to see how the era was interpreted by another country. We're all pretty familiar with how people dressed in North America in the '60s thanks to Mad Men, and the differences and similarities of what they were wearing in urban Hong Kong at the same time I find just fascinating. For men the look was fairly similar – slim cut suits, skinny ties, and slicked back hair (although more Pete Campbell than Don Draper), and traditional cheongsams in typical '60s patterns for the women. Wong Kar Wai is a beautiful filmmaker, and his use of colour and attention to detail in all of his films is just amazing.
America's (and Canada's) favourite everywoman also has pretty great style! She has her typical uniform of a menswear inspired shirt (lately plaid) and jeans, but she cleans up nice too, wearing tasteful shift dresses mainly in jewel tones. My favourite dress she's ever worn was coral though. I like that she doesn't always dress up and for the most part dresses fairly practically, the way that most real women do. She also vacillates from tomboy to a very girly style, which I think a lot of real women do as well, depending on their mood.
To get Liz's style is pretty easy, but I do know from watching a lot of 30 Rock extras that they buy a lot of her clothes at Banana Republic, especially her dressier looks.
Lady Snowblood (Toshiya Fujita, 1973)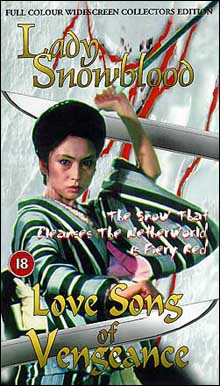 Lady Snowblood has provided lots of inspiration for filmmakers making female revenge films almost since it came out in the '70s (most notable Quentin Tarantino's Kill Bill series). This Japanese grindhouse flick also has surprisingly great costumes and production values. It's no big secret that I LOVE kimonos, but Snowblood's are particularly beautiful. You may think it's hard to interpret kimono into an everyday wardrobe, but there are lots of kimono inspired tops out there right now (Zara has a lot right now that are more literal, but places like Smart Set have some great pieces as well), and there are lots of ways to style them, from a more casual look with jeans to a more formal look.
V (ABC 2009-2011)
While not the best show in the world, sartorially speaking, V can be pretty great (I will seriously watch something just to see what certain characters are wearing, I am that lame!). From Morena Baccarin's endless supply of minimalist sheaths and pumps to Elizabeth Mitchell's more menswear inspired look of jeans and leather, there is something for almost every personal style on V. Plus aliens!
Some pieces inspired by the shows/movies above
All available at Canadian retailers or ones that are in almost every mall in Canada.
Celluloid Inspiration
by
megano
featuring
bootcut jeans