I am
very excited
to tell you about the new project I am working on with Kimberly from
a little bit of this
! The best thing about this project is that
anyone
can join in on the fun!!
I am quickly finding out that
Kimberly
and I have a lot in common...we both are mothers to toddler girls...we have a love for fashion...and we love crafting! It makes perfect sense for us to team up on a project that will allow us to get creative while saving money (we do have college funds to save up for after all...) all while looking perfectly fashionable!
The idea behind
Old to New in October
is to take something
old
from your closet and refashion it to something
new
and fabulous!
Each week in October Kimberly and I will be posting our Old to New project on our blogs. We want to encourage you to join in the fun by linking up your project at the bottom of our post each week. This is a great way to get inspired, and inspire others while meeting other bloggers who love to DIY! In our post we will make sure to include before and after pictures along with a few instructions.
The best thing about this is that everyone who links up their
Old to New in October
project to our post is going to get entered to win some
fabulous prizes
at the end of the month! More on that later...we still have to iron out a few details...but I promise we'll make sure they'll be fantastic!!
Make sure you have your project ready to post for October 6, and be sure to come back here or to
a little bit of this
to submit your link!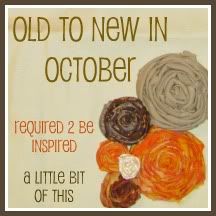 If you are planning on joining in on the fun I would love it if you would take this button for either your post, or your side bar!
I'd love to hear from anyone who's thinking of doing this with us!